How to Insert a Blank Page in Word 2007
How to Insert a Blank Page in Word 2007
In Word 2007, you can insert a blank page into the middle of a document. The Blank Page command lets you manually insert a blank sheet of paper even though Word 2007 automatically adds new pages as you write.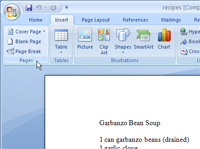 2

Find the Pages group.

The Pages group is the first group on the Ribbon, located next to the Tables group.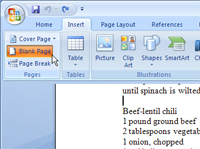 3

Click the Blank Page button.

This button inserts two hard page breaks into a document, which creates a blank sheet of paper.

Use this command only is you really need a blank page in the midst of a document — that is, only if you never plan on writing on that page. You can put graphics on the page or add a table, but writing on the page leads to formatting problems.