How to Format Page Orientation in Word 2007
How to Format Page Orientation in Word 2007
To set page orientation in Word 2007, choose from portrait mode or landscape mode in the Page Setup Group on the Layout tab. Portrait prints vertical; landscape prints longways.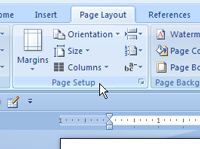 1

Click the Page Layout tab on the Ribbon.

The Page Layout tab is the third tab from the left and is located between the Insert and References tabs.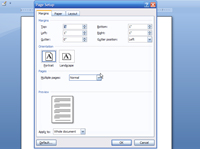 2

In the Page Setup group, click the lower-right arrow.

The Page Setup dialog box appears with the Margins tab selected.