How to Create Multiple Columns in a Word 2007 Document
How to Create Multiple Columns in a Word 2007 Document
To convert your standard single- (or no-) column Word 2007 document into one with multiple columns, simply choose the column format you want from the Columns menu. Instantly, your document is transformed into a multicolumn wonder!
1

Click the Columns button.

This displays a menu of handy column-formatting options.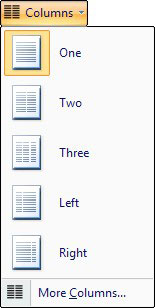 2

Choose the More Columns command.

This displays the enticing Columns dialog box. By using that dialog box, you can create and design your own set of multiple columns.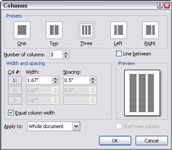 3

Set the number of columns you want.

You can click the One, Two, or Three button in the Presets section of the dialog box for three columns or less. For more than three columns, you can specify an amount in the Number of Columns field. Use the Preview window to help determine how your page is formatted.
4

Click OK.

Word applies the column format to your document.