How to Create Labels in Word 2008 for Mac
How to Create Labels in Word 2008 for Mac
You don't have to painstaking address dozens of holiday cards or party invitation thanks to Word 2008 for Mac's label-making features. Word even lets you use hundreds of different labels by Avery and several other manufacturers.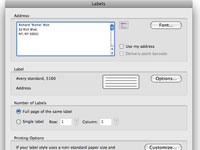 1

Open a new blank document and then choose Tools→Labels to open the Labels dialog.

You can open a new blank document by choosing File→New Blank Document or pressing Command+N.
2

Type the name and address into the Address field.

If you use Microsoft Entourage and have entered the address of the person you want to print this address label for, click the little Rolodex card next to the Address field, choose the person's name in the Office Address Book dialog that appears, and then click the Insert button.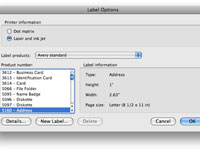 3

Click the Options button and, in the Label Options dialog that appears, select the type of label you want to print.

Although the Labels dialog offers only one field for the contents of your labels (named Address), you can create many other types of labels through the Label Options dialog. (Click the Label Products pop-up menu to see more manufacturers.) You can also create diskette, name badge, file folder, ID card, and many other types of labels with a single click. But, regardless of the kind of label you're making, you still type the information into a field named Address in the Labels dialog.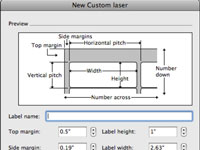 4

Click OK when you find the brand and style of label you need.

If you don't find the brand and style of label you want in the Label Options dialog, click the New Label button to open the New Custom Label dialog.
5

In the New Custom Label/Laser dialog, name your new label, fill in all the fields to set it up, and then click OK to save it.

You return to the Label Options dialog.
6

Click OK to dismiss the Label Options dialog. In the Number of Labels section of the Labels dialog, choose to print either a full page of the same label or a single label at the specified position.

If you want to print a single label, select the Single Label option and enter the row and column number where you want the single label printed.