How to Create Headers and Footers in Word 2008 for Mac
How to Create Headers and Footers in Word 2008 for Mac
Some documents need the same information, such as your name, address, phone and fax numbers, and e-mail address, to appear on every page. You can place this information as headers or footers in Word for Mac documents. Headers or footers will appear on every page of a document.
1

With your document open, choose View→Print Layout. Then choose View→Header and Footer.

You need to be in Print Layout view because you can't see the header or footer in Draft view.
2

Click anywhere inside the header or footer and type your text.

The text will then appear on every page.
3

Click anywhere in the footer area and then choose View-- >Formatting Palette to open the Formatting Palette. Expand the Formatting Palette's Header and Footer panel.

The Formatting Palette enables you to include the page number, date, and time within your header or footer.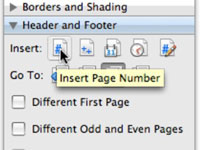 4

Set the options you prefer.

Different First Page lets you have a different header and footer (or no header and footer) on the first page of your document. Different Odd and Even Pages lets you create different headers and footers for odd- and even-numbered pages. Hide Body Text causes everything between the header and footer to disappear from the screen. And Header from Top and Footer from Bottom lets you move the header down and/or the footer up.

The default for headers and footers is 0.5 inches, which means the header begins half an inch down from the top of the page and the footer ends half an inch up from the bottom of the page.