How to Convert an Older Word Document to Word 2010 Format
How to Convert an Older Word Document to Word 2010 Format
Word 2010 easily opens documents created by older versions of the program. It even saves them in the older Word formats, so normally nothing goes wrong. But certain features available to newer Word documents, such as Quick Styles and Themes, aren't available to files saved in older Word formats. To fix the situation, you must update the older Word documents with Word 2010 documents: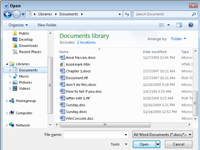 1

In Word, give the Open command.

For example, you can use the Ctrl+O keyboard shortcut. However you do it, the Open dialog box appears.
2

In the Open dialog box, locate an older Word document.

All Word documents, old and new, appear in the Open dialog box.
3

Select the older word document and click the Open button.

The Word document opens and is displayed onscreen. You see the text [Compatibility Mode] displayed on the title bar, indicating that you're working with a document saved by using the older Word document format.
6

Click the OK button.

The document is updated — but you're not done yet.
7

Save the document.

You have several ways to save the document. For example, you can use the keyboard shortcut Ctrl+S.