How to Compare Two Versions of the Same Word 2010 Document
How to Compare Two Versions of the Same Word 2010 Document
You have the original copy of your Word 2010 document — the stuff you wrote. You also have the copy that Barbara, your editor, has worked on for a week or so. Both Word documents have different names, of course. Your job is to compare them to see exactly what's been changed from the original. You actually don't open the original document to start, believe it or not.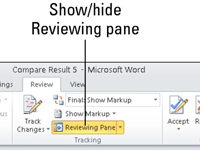 1

Click the Review tab and, from the Compare group, choose Compare→Compare.

The Compare Documents dialog box shows up.
2

Select the original document from the Original Document drop-down list.

If you can't find the original document, click the wee folder icon to browse for it.
3

Select the edited document from the Revised Document drop-down list.

Like with the original document, you can locate the revised one by clicking the folder icon to browse.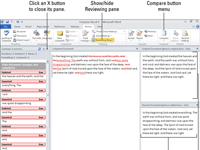 4

Click OK.

Word compares the two documents and notes all changes. Then it displays a list of changes, the compared document with changes marked, plus the original and revised documents.
5

If your screen doesn't display all the information it should, click the Compare button again and, from its menu, choose Show Source Documents→Show Both.

Look it over! Peruse the changes made to your pristine prose by the barbarian interlopers; use the Reviewing pane to witness each change individually.
6

Click a change in the Reviewing pane if you want to see which part of your document was folded, spindled, or mutilated.

Each reviewer is given his or her own color on your screen. For example, the writer's revision marks may appear in red, but had a second person reviewed the text, those comments would appear in a second color, and so on for other reviewers.

Did this glimpse into formatting Word documents leave you longing for more information and insight about Microsoft's popular word processing program? You're free to test drive any of the For Dummies eLearning courses. Pick your course (you may be interested in more from Word 2013), fill out a quick registration, and then give eLearning a spin with the Try It! button. You'll be right on course for more trusted know how: The full version's also available at Word 2013.