How to Color the Pages of a Word 2010 Document
How to Color the Pages of a Word 2010 Document
Word 2010 allows you to apply color to the pages of a document. After you color your Word document's pages, you need to tell the printer you want to print that background color.
1

Click the Page Color command button on the Page Layout tab's Page Background group.

A menu full of colors opens, some based on the document theme and some based on standard colors.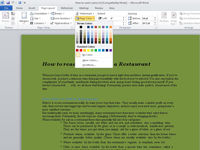 2

Choose a color from the Page Color menu.

While you move the mouse over the various colors on the Page Color menu, your document's page color is updated to reflect that new color (but only in Page Layout view). The text color may change, as well (for example, from black to white), to remain visible. To remove page coloring, choose the No Color command.

The color you choose is produced by your printer, but you must direct the printer to print the page color.
3

Click the File tab and choose Options.

The Word Options window opens.