How to Change the Font in Word 2007
How to Change the Font in Word 2007
Word 2007 makes it easy to change fonts in your document. Different fonts give different looks to the words that make up your overall text.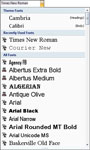 1

Display the Fonts menu.

On the Write tab, in the Font group, click the down arrow to display the Fonts menu.

The top part of the menu shows fonts associated with the document theme. The next part contains fonts you've chosen recently, which is handy for reusing fonts. The rest of the menu, which can be quite long, shows all the fonts in Windows that are available to Word.
2

Scroll to the font you want.

The fonts in the All Fonts part of the list are displayed in context (as they appear when printed) and in alphabetical order. You can quickly scroll to a specific part of the menu by typing the first letter of the font you need, such as T for Times New Roman.

You can also use the Font menu to preview what fonts look like. Scroll through the list to see which fonts are available and how they may look. As you move the mouse over a font, any selected text in your document is visually updated to show how that text would look in that font. (Note that no changes are made until you select the new font.)
3

Click to select a font.

Word applies the font to the selected text.