How to Attach a Template to a Word 2010 Document
How to Attach a Template to a Word 2010 Document
Word 2010 documents have templates like people have last names. Mostly, the Word documents are born with their templates. You either choose the template when the document is first created or just create a new document, in which case, the NORMAL.DOTM template is used. You can change it by assigning or attaching a new template to a document:
1

Open the document that needs a new template attached.

You can open a document in a number of ways. For example, just double-click the icon on your computer.
3

Choose Add-Ins in the Word Options dialog box.

This option appears on the left side of the dialog box.
4

Select Templates from the Manage drop-down list.

This list appears on the right side of the window, near the bottom.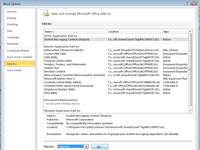 5

Click the Go button.

The Templates and Add-Ins dialog box appears. Whichever template name appears is whichever template is currently attached to the document.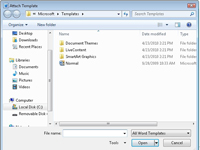 6

Click the Attach button.

Word displays the Attach Template dialog box, which looks and works like the Open dialog box.
7

Select the template you want to attach and click the Open button.

The template is now attached, but you may need to do one more thing back in the Templates and Add-ins dialog box.
8

(Optional) Select Automatically Update Document Styles.

Updating styles means that your document's current styles are changed to reflect those of the new template, which is probably what you want. If not, skip this step.
9

Click OK.

The styles (plus custom toolbars and macros) stored in that template are now available to your document, and the document is now attached to the template.