Automatically Number Lines in Word 2011 for Mac
Automatically Number Lines in Word 2011 for Mac
Word in Office 2011 for Mac can automatically number the lines in your documents. Automatically numbering lines can be handy when referring to specific places within a Word 2011 for Mac document without having to use bookmarks. To add or remove line numbers, your document must be in Print Layout view.
You can turn on line numbers for an entire document or selected portions of a document:
Select a portion, section, or several sections of a document.

If you want to number an entire document, skip this step.

Choose Format→Document from the menu bar.

The Document dialog opens.

Click the Layout tab.

Click the Line Numbers button.

The Line Numbers options appear.

Click the Add Line Numbering check box to activate the line-numbering options.

Choose options as desired.

Click OK twice to return to your Word document.
To remove line numbers, repeat these steps, but in Step 5, deselect the Add Line Numbering check box.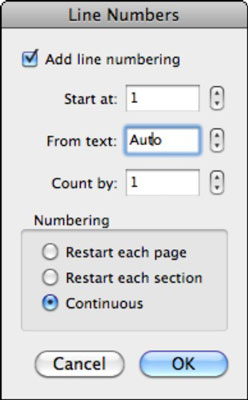 You can control the following settings as you like:
Start At: Sets the number of the first line.

From Text: Sets the distance of the line numbers from the text.

Count By: Skips the display of line numbers by however many you choose. If you count by two, only the numbers next to every other line appear.

Numbering: You get three options. The Continuous option means the numbering won't restart at page or section breaks and will be continuous throughout the entire document or selection.