Searching for Files in Office 2011 for Mac
Searching for Files in Office 2011 for Mac
In Office 2011 for Mac, you can search files in both Open dialogs and Save dialogs. If you're switching from Windows, prepare to be amazed by this search experience. Mac OS X includes Spotlight, a search system that automatically indexes your files, their attributes, and the first 1,000 words of every file. When you use the Search field in an Open or Save dialog, you're using Spotlight.
Using search is easy and can be highly interactive. All you have to do is type a keyword, phrase, text string, filename, or any part of a filename in the Search field of an Open or Save dialog. The moment you start typing, the dialog instantly undergoes a transformation into a specialized search tool. It happens so fast that you might not even notice.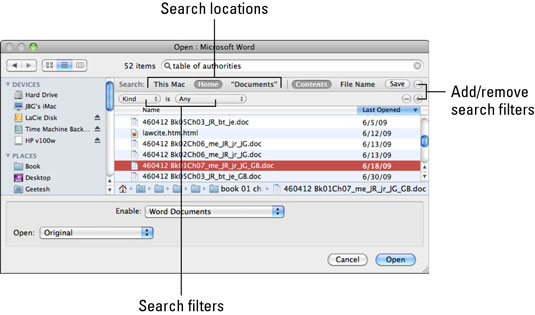 Before you've even finished typing your search, Spotlight finds your file or narrows the search down considerably. However, search provides a lot of filtering tools in case you need them.
These features become available when using Spotlight search in File dialogs:
Enter search terms: Type keywords, phrases, or filenames in the Search field.

Clear search box: Click the X in the Search field to clear the field.

Number of hits: Displays how many items match your search criteria.

Search locations: Click to limit your search to specific places.

Search filters: These appear when you click the plus and minus signs (labeled as Add/remove search filters in the figure).

Search results: Results appear almost instantly and can be ordered by clicking the column headers.

File path: When using Open dialogs, if you click a search result item you can see its file path. This is not available in Save dialogs.

Contents or File Name: Choose whether to include results by the contents contained within your files, or limit the search to just file names.

Add/remove search filters: The plus and minus buttons turn on search filters, add more search filter options, or remove search filter options.

Sort: When you click a column header, it sorts either ascending (alphabetically) or descending (reverse alphabetical) each time you click the header (List view only).