How to Assign and Remove Keyboard Shortcuts in Office 2008 for Mac
How to Assign and Remove Keyboard Shortcuts in Office 2008 for Mac
You can add or change keyboard shortcuts for menu commands in Office 2008 for Mac. This allows you to customize your shortcuts to make Office work more efficiently — or at least the way you want that makes sense to you — on your Mac.
1

Choose View→Customize Toolbars and Menus.

The Customize Toolbars and Menus dialog appears. If you don't see the Toolbars and Menus pane, click the Toolbars and Menus tab.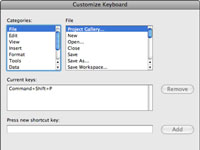 2

Click the Keyboard button.

You'll find this near the Customize Toolbars and Menus dialog's bottom-right corner. Once you click it, the Customize Keyboard dialog box opens.
3

In the Categories list, select the category that contains the command to which you want to assign a shortcut (or whose shortcut you want to remove or change).

Items that match the selected category appear in the Commands list, which is to the right of the Categories list. If you're not sure what category to choose, choose the All Commands category, which displays all available commands, regardless of their category.
4

Select the command whose shortcut you want to assign, remove, or modify.

If a shortcut is currently assigned to that command, the shortcut appears in the Current Keys list. Clicking the Remove button removes that shortcut assignment.
5

Click in the Press New Keyboard Shortcut text box and press the key combination you want to use for your new shortcut assignment.

If the shortcut you enter is already assigned to another command, a line of text appears below the Press New Keyboard Shortcut text box, informing you of the current use for that shortcut.
6

If you want to make the new assignment, click the Assign button on the right of the New Keyboard Shortcut text box.

Or, if you've changed your mind and decided you don't want to assign a keyboard shortcut, do not click the Assign button. Rather, click the OK button to close the Customize Keyboard dialog without making any changes.
7

Repeat these steps for additional shortcut assignments and, when you're done, click OK to dismiss the Customize Keyboard dialog.

Clicking the Reset All button restores all shortcuts to their factory settings.