How to Use the Socialcast Mobile App
How to Use the Socialcast Mobile App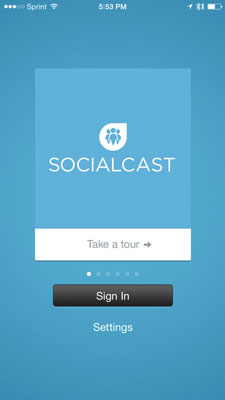 110
Download the app.
Source: Socialcast.com
The Socialcast mobile app is free, so take a moment to go through the usual download procedures for your device. When it's installed, tap the icon to open the app.
Before you login, you can take a tour if you want; just swipe through the screens to see what lies ahead. Then tap Settings to tell Socialcast which company you work for.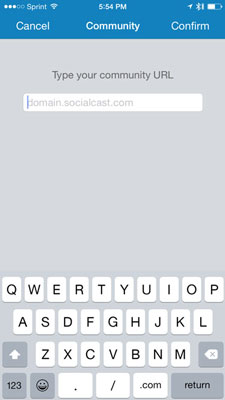 210
Set the default community address.
Source: Socialcast.com
Type the address for your Socialcast site and then tap Confirm. If you're using the free version, it probably is something like yourdomain.socialcast.com, and you probably don't need a www at the front. If you're not sure, leave it blank and tap Cancel. Either way, you'll land back at the first screen. Tap the Sign In button.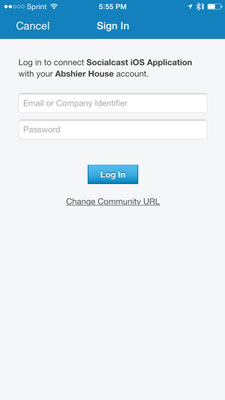 310
Sign in, please.
Source: Socialcast.com
If you successfully entered the URL in the last step, the Sign In page will ask you to connect to your company's account by name. Otherwise, it will be a generic sign-in request.
Here, enter your specific sign-in information for your Socialcast account and tap Log In. The app will take you to your Home stream.
Before you can see anything, you'll probably be asked if you want to receive notifications. Presumably, you do, but it's nice that they're courteous enough to ask.
If you change your mind later, you can go to Settings to change it, no worries.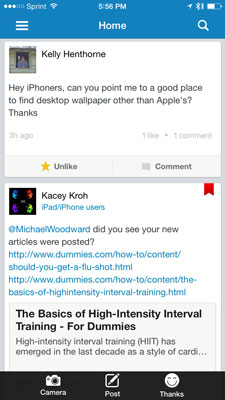 410
Catch up on the latest news.
Source: Socialcast.com
Socialcast Mobile will present you first with your Home stream, which is a collection of everything that's been happening in your Socialcast world since you last stopped in. From here, you can interact with each of the individual posts as you would on the big screen: comment, like, share, bookmark posts. Or search for that one really insightful comment that Kelly posted a couple of weeks ago but was so long ago now that you don't see it in your stream.
You also can initiate new posts to the whole community or, if you tap My colleagues, just to a specific group. These posts can include a photo taken in the moment or one from your library. Feel free to @mention colleagues to call their attention to your post, and include any relevant #hashtags so the post will show up in the collection of posts on that #topic.
You can also respond to a Challenge or issue a Thanks to a co-worker , which is probably a good idea if she was covering for you at the office while you were hanging out at Starbuck's absorbed in with that other social media app.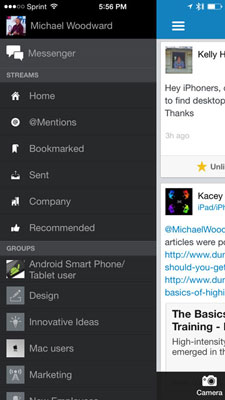 510
Browse your other stuff.
Source: Socialcast.com
Tap the menu button at top left to slide back the stream display and see other areas you can get to, such as all those other specific streams and any groups you belong to.
A little further down, you'll find the Readability setting, which will increase or decrease the size of the font in your streams. For those with aging eyes, this is a really helpful feature.
Below that are some time-based filters you can use if you want only a limited amount of activity to show on your phone (all those messages flying by can be exhausting).
At the very bottom of this possibly long list, you'll see the Settings button. You won't need these very often, but you'll want to know what's there, so go ahead and tap it.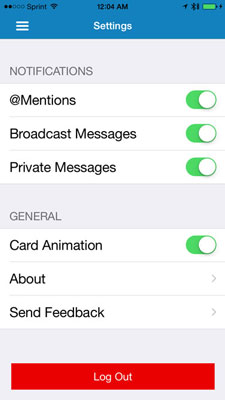 610
Remember this place.
Source: Socialcast.com
As more and more people become a part of your Socialcast world, the more notifications you're going to get. They may start to drive you bonkers; if so, you can tell the app to lay off of certain types of notifications. (Maybe leave on Broadcast messages, as those tend to be important most of the time.)
The other important feature on this tab is the Log Out button. Really, it's good to completely unplug sometimes. Don't worry, it will all be there when you get back!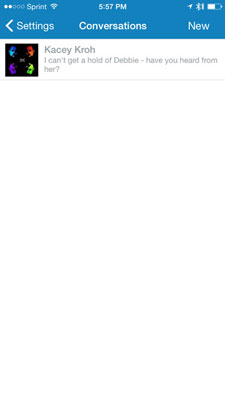 710
Chat someone up.
Source: Socialcast.com
Swipe the Settings menu back out of the way and tap Messenger to open the instant messaging interface. First you'll see a list of messages you've already received. They can be on-going conversations or, like any other text message, just a quick back and forth.
Tap New to start a new conversation with anyone in the community.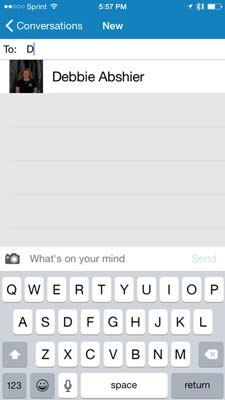 810
Look someone up.
Source: Socialcast.com
If you're not sure how to spell someone's name, no need to fret. If you can get it in the ball park, chances are the person you're looking for will pop up after you type a few letters.
This feature works almost identically to the phone's built-in instant messenger app, so you shouldn't have too much trouble figuring this one out.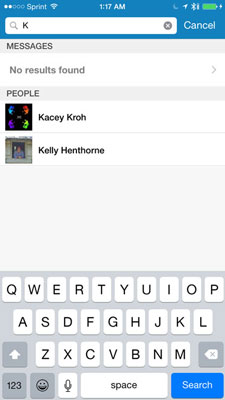 910
Find someone's number or anything else, for that matter.
Source: Socialcast.com
Enough of this online stuff. You want to actually talk to someone in real time, but who remembers phone numbers anymore?
Go back to the Home page and tap on the magnifying glass to open a search box.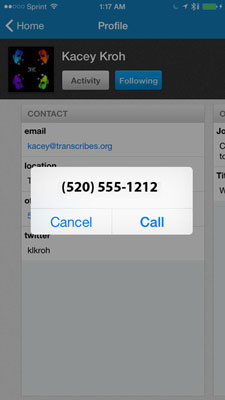 1010
Dial direct.
Source: Socialcast.com
When you find the person you're looking for, tap their name to open their profile, which will (if all goes well) include their phone number. Boom! Just tap it and let the miracles of modern technology doe the rest to connect you voice to voice.