How to Chat with Ning Group Members
How to Chat with Ning Group Members
Chatting on Ning is incredibly easy through the Chat bar at the bottom of every page on the network. You basically click either one of the arrows on the Chat bar to open up the Chat window.

Chatting with multiple Ning members
To the left on the Chat window, below the Main tab, you can see the messages posted by each member, and each message is preceded by a member icon and a time stamp.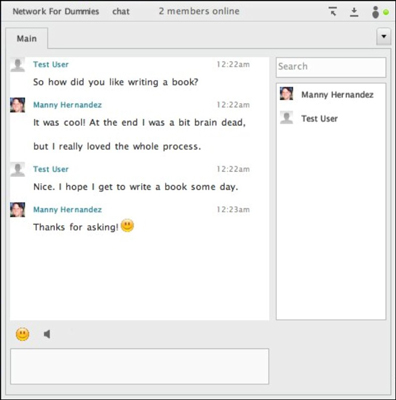 Before you can chat with others, you need to make sure your status is set to Online through the little buddy-shaped icon next to the green or red circle in the bottom right of the Chat bar or (if the Chat window is open) at the top right of the Chat window.
When you're online, the light is green, and the Chat bar shows you how many other members are online. When you're offline, the light is red, and on the Chat bar, instead of the number of members online, you see the message Disconnected.
The Chat window includes these features
A search box: Allows you to search for a specific member in case the list of members chatting is long.

The text box: At the bottom, on the left side of the window, use this text box to type your own messages as part of the chat. Above the text box is a handy panel with two buttons:

The smiley button: Click the first button to show a number of smileys you can include in your message.

The speaker-shaped button: The second button enables you to un-mute and mute the chat. If it's un-muted, whenever someone posts a comment in the chat window, you hear a subtle yet audible beep alerting you to the fact that someone replied.

Hide: At the top right of the Chat window, to the left of the buddy-shaped icon, you can click the downward arrow to hide the Chat window.

Hiding the window doesn't take you offline: It simply hides it from view so you can go about browsing the rest of the network conveniently.

Detach: To the left of the downward arrow is a diagonal arrow pointing to the top-left. If you click this icon, the Chat window becomes detached in a new browser window.
Private chats with another member of Ning
Occasionally, you may want to chat privately with another member. To do this, click the member icon in the chat window or on the listing of online members. You're presented with a window showing you these options:

Private Chat: Clicking this link opens a new tab next to the Main tab, where you can chat with the other member privately.

View Profile: Clicking this option opens a new window where the member's profile page appears.