How to Get MySpace Applications
How to Get MySpace Applications
On the MySpace Developer Platform (MDP), developers can create MySpace applications. MySpace offers these applications to users, saving you some effort. The developers build their applications for the MySpace public at large, and you don't have to build it to use it on your page.
1

Log in to your MySpace account.

Your MySpace profile page opens.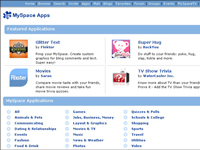 2

Click Get Apps in the Applications section in the left column of your home page.

You can add as many applications to your MySpace page as you want, limited only by your desire and good taste.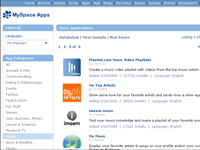 3

Click a category link to see applications in that category.

Each application shows a name, a brief description, when it was created, how many times users have added it to their profiles, and the language it uses.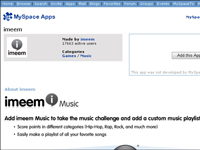 4

Click the name of the application you want to add.

A page appears that includes more information about the application and an Add This App button for when you're ready to pull the trigger.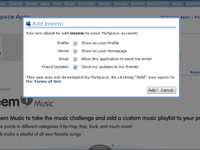 5

Click the Add This App button.

A confirmation message appears. It goes beyond just making sure you want to add this program, though. Applications can share your personal information and link you with other MySpace users, so it's important that you realize what you're doing.
6

Select the check boxes for the functions you're comfortable with and deselect the ones you don't want to activate.

Some applications may not work when you've disabled certain functions.