Add Bio to Your Website with WordPress Widgets
Add Bio to Your Website with WordPress Widgets
Adding your bio to your mom blog with WordPress is similar to adding any text or HTML to your sidebar. To add a bio, photo, advertising, or anything else custom, you have to put these into a Text Widget and then add it to your sidebar.
1

From your WordPress Dashboard, choose Appearance→Widgets.

Note that if you have more than one sidebar, you need to click the down arrow in each widget area to expand it so that you can drag new widgets into place.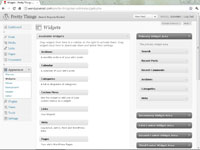 2

Mouse over the Text Widget in the main widget area until your mouse pointer changes to a Move icon.

The Move icon looks like a plus sign with arrows in all directions or a grabbing hand.
3

Click and drag the Text Widget to the position you want your bio to appear in the sidebar.

The Text Widget opens automatically after you let go of your mouse pointer.
4

Enter a title or heading in the Title field, and type your bio in the larger field.

For a bio, type About Me or My Bio in the Title text field if you want to. You can also leave the Title blank. In the larger text field, type in your bio (or copy and paste it if you already have a short bio saved elsewhere). If you have your bio formatted with HTML, you can use that instead.
5

Click the Save button.

Go to view your blog and see how the widget looks.