How to Cook with Your Small Child
How to Cook with Your Small Child
You can introduce your child to the joys of cooking at an early age. If your child is old enough (no babies allowed!), he or she can help you cook. When you cook with your child, you want the event to be positive, and you can help make that happen by first getting your ducks in a row, and then closely managing the cooking process.
1

Choose the recipe.

Before you do anything, choose a recipe and make sure that you have all the ingredients on hand. You may want to allow your child to be a part of the selection process, as well. If you do, give him or her a choice of three options, instead of a whole book of choices.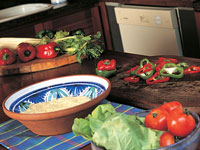 2

Prepare the work area.

Your kitchen is set up for you — not your kids. You may have to do more of the preparation at the kitchen or dining room table. You can also use a bar stool so your child can work next to you at the counter, as shown in this figure.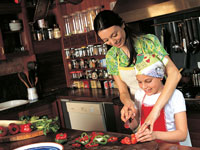 3

Get all ingredients and tools ready.

You should get everything ready before you call the kid (or kids) into the kitchen. Review all the ingredients and cooking tools with your helper(s).
4

Dole out the tasks.

Give your child tasks based on his or her age and abilities.
5

Wash your hands.

Before you get started, teach good kitchen hygiene. Everyone should wash their hands thoroughly.