Network Administration: Installing Internet Information Services (IIS)
Network Administration: Installing Internet Information Services (IIS)
Internet Information Services (IIS) is a free component of Windows Server 2003 and 2008, but it's not installed by default. After you've completed the installation of Windows Server, you must add the Web Server role to enable IIS. The following procedure is for Windows Server 2008 R2, but the procedure for Windows Server 2008 (or 2003 for that matter) is similar:
1

Choose Start→Administrative Tools→Server Manager.

The Server Manager comes to life.
2

Choose Roles in the navigation pane.

The roles configured for the server are displayed. Activate the Add Roles Wizard by clicking Add Roles.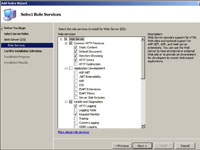 5

Click Next.

The Role Services page appears. This page lists a variety of optional services that can be configured for IIS.
6

Select the services you want to configure for IIS.

If you want, you can study this list and try to anticipate which features you think you'll need. Or you can just leave the default options selected.

You can always return to the Add Roles Wizard to add features you leave out here.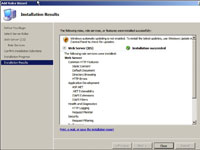 8

Click Install.

The features you selected are installed. This may take a few minutes, so now would be a good time to take a walk. When the installation finishes, the Installation Results page is displayed.
9

Click Close.

IIS is now installed and ready to use!