How to Use the New Share Wizard
How to Use the New Share Wizard
To create a new share on your network file server, you use the New Share Wizard. To be useful, a file server should offer one or more shares — folders that have been designated as publicly accessible via the network.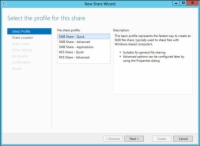 1

In Server Manager, select File and Storage Services, click Shares and then choose New Share from the Tasks drop-down menu.

The opening screen of the New Share Wizard appears. Here, the wizard asks you what folder you want to share.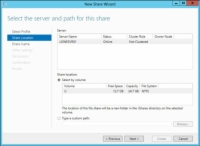 2

Select SMB Share – Quick in the list of profiles and then click Next.

The New Share Wizard asks for the location of the share.
3

Select the server where you want the share to reside. Select the location of the share by choosing one of these two options.

Select by Volume: This option selects the volume on which the shared folder will reside while letting the New Share Wizard create a folder for you. If you select this option, the wizard will create the shared folder on the designated volume. Use this option if the folder doesn't yet exist and you don't mind Windows placing it in the default location, which is inside a folder called Shares on the volume you specify.

Type a Custom Path: Use this option if the folder exists or if you want to create one in a location other than the Shares folder.
5

Enter the name that you want to use for the share in the Share Name field.

The default name is the name of the folder being shared. If the folder name is long, you can use a more succinct name here.
7

Select the share settings you'd like to use.

Enable Access-Based Enumeration: Hides files that the user does not have permission to access

Allow Caching of Share: Makes the files available to offline users

Encrypt Data Access: Encrypts files accessed via the share
9

(Optional) If you want to customize the permissions, click the Customize Permissions button.

Clicking this button summons the Advanced Security Settings for Data dialog box, where you can customize both the NTFS and the share permissions.