Cisco Web Console Overview
Cisco Web Console Overview
Cisco offers a web GUI tool, Web Console, to help you configure and manage your new switch if you would rather not to go into command line mode. If you refer to the default factory configuration, you will see a line that reads ip http server.
This line enables a web server on your switch that lets you use your web browser — such as Firefox, Internet Explorer, or Google Chrome — with Java support to configure and manage your switch.
So, if you are uncertain about using the command line, Web Console gives you the ability to make all of your configuration changes through a friendly Web GUI. There is even a spot where you can pass through command-line items for changes that do not exist in the GUI.
To start this process, open your web browser and connect to http://<management address of switch>. You will need to know the enable or secret password to connect this interface. When you are presented with the authentication dialog box, you can ignore the username field and fill in the password field, unless you have created user accounts on your switch, in which case provide credentials for a valid user.
The dashboard is the main page that opens when you log on to Web Console.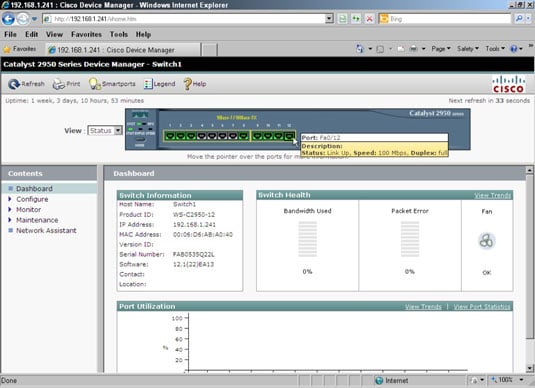 In addition to showing you a graphical image of the switch with its active ports, the console gives you a brief look at the health of your switch:
The Switch Information section gives you all the information you need to get warranty information about your product.

The Switch Health section lets you identify any major problems related to bandwidth, packet errors, or the system fans.

The Port Utilization section identifies which port(s) are being over-utilized if you have a bandwidth issue.
Next to the image of the switch at the top of Web Console is a View menu that lets you change the display of the port colors to identify the ports as the Mode button would. Here are the three items that can be displayed in the View drop-down list:
Status: Sets active ports to green.

Speed: Sets the port color based on the connected port speed.

Duplex: Sets the port color based on the Duplex settings of the port.
If you mouse over any of the ports, this web page has a pop-up window that shows the same settings as the View menu in one convenient display.