Organizing Your Digital Images on Your Windows Computer
Organizing Your Digital Images on Your Windows Computer
You can use Windows Explorer to store and organize your digital photos. Working with folders in Windows is easy, so you can organize your digital image files in a snap. In Windows, to create folders to store your images:
1

Choose Start→All Programs→Accessories→Windows Explorer.

Note that this step applies to Windows XP and Vista. If you're using an older version of Windows, you can achieve the same by choosing Start→Programs→Explorer. You can also right-click the Start button and select Explore from the context menu.
3

If a plus sign appears to the left of the drive's icon, click that plus sign to display the folders currently on the drive.

If a minus sign appears to the left of the icon, you can already see all the folders.

If you don't see the Folder pane, you can open it either by choosing View→Explorer Bar→Folders or by clicking the Folders button on the toolbar.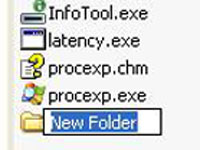 4

Select the folder in which you want to organize your images.

If you want to use an existing folder, click it. If you want to start a new folder for your photos, choose File→New→Folder from the menu bar, then type in a name when your new folder appears (as shown in this figure).
5

Move your image files to the folder you selected.

You can just drag and drop your image files.
6

Organize your photos however you want.

You can make subfolders in your main photo folder to help you categorize your images.