Adobe Photoshop CS6 as an Image Editor
Adobe Photoshop CS6 as an Image Editor
Since it appeared on the market in the early 1990s, Photoshop — including its final stand-alone incarnation, Photoshop CS6, and future versions under the Adobe Creative Cloud umbrella — has gained its number-one position over the years by virtue of a complex set of circumstances, many of which relate to how cool the product really is. Consider these points:
Photoshop does everything any sane digital photographer or graphics worker would want to accomplish. Recent releases have filled a lot of holes, including the long-requested capability to curve text along a path. If you can't do it with Photoshop, you probably don't need to do it.

In its Creative Cloud version, it can be updated continually with improvements, bug fixes, and new features. You may not need every single Photoshop feature now, but someday you might. So, Adobe has switched from its original stand-alone mode to a new Creative Cloud subscription model.

Once you sign up for a subscription (which can cost as little as $9.95 a month), you have access to each new version as it becomes available. Previously, Photoshop was updated only once every 18 months or so.

Photoshop works identically with PCs and Macintoshes. With some minor interface differences, Photoshop works the same with both PCs and Macs.

Understanding how to use Photoshop is a marketable skill. Certainly, it takes months to become a Photoshop master, but the knowledge you gain can help you not only with your current job but, potentially, your next one, as well. Employers don't take notice if you're a Paint Shop Pro guru (unless the company happens to use that program) but might place a premium on Photoshop expertise.
Despite its cost and learning curve, Photoshop is certainly not out of the reach of the average dSLR owner. Most computers built in the past couple of years are certainly powerful enough to run it, especially if you have at least 2GB of random access memory (RAM). Upgrading to that amount or RAM should cost less than $100. If you're serious about photography, spend the time to master Photoshop.

In the past, it was possible to skip a release (upgrading, say, from Photoshop CS4 to Photoshop CS6) if you didn't need the very latest features. However, Adobe has used the nasty practice of not supporting the latest version of its RAW software converter, Adobe Camera Raw, in previous editions of Photoshop.
So, if you're using Photoshop CS4 and have just purchased a new camera, you might be forced to upgrade to CS6 or Creative Cloud if you want to use Adobe's RAW conversion software in place of the converter offered by your camera's vendor.
The company has promised that those who elect to stick with the stand-alone version of CS6 will be able to download Adobe Camera Raw versions that support the newest cameras, although non-Creative Cloud versions will not receive any feature upgrades.
Advantages of Photoshop as an image editor
Photoshop's strength is its complete feature set, with tools for doing retouching, compositing, complex color correction, and even web design. If you specialize in one type of image processing over another, Photoshop has everything you need in its well-organized tool set.
The most sensational features of the latest versions of Photoshop (from CS5 onward) are the Content Aware Fill capabilities. These "smart" filling and cloning tools make it easy to fill in unwanted areas of your image with appropriate content and textures derived from the surrounding area.
Unlike plain old cloning, which just copies an area you select on top of another area, Content Aware tools do an excellent job of producing seamless camouflage, for much speedier retouching and compositing.
Photoshop CS6 also features a Puppet Warp tool. This tool is useful for creating simple animations by overlaying an image with a mesh where pivot points can be inserted at "joints." You can use the tool to swivel individual parts independently, like a puppet (hence, the moniker). Artists will appreciate new Bristle Tips and Mixer Brush tools, and Macintosh users get a 64-bit version of Photoshop.
Several changes have made applying lens corrections and high dynamic range adjustments easier for beginners.
Photoshop is a nimble, cross-platform, cross-application tool. It can read, write, and manipulate all the industry-standard file formats, as well as many nonstandard file types. You can resample images to change the image size, resolution, and color depth. Photoshop excels at providing images that are optimized for specialized uses, such as commercial printing and web graphics.
Adobe designed Photoshop to accept filters and plug-in program extensions provided by third-party suppliers, such as Alien Skin or Auto FX. A robust aftermarket has evolved to supply a wide assortment of plug-ins that let you quickly and easily apply all manner of textures, edge treatments, special effects, and other image manipulations to the images you edit in Photoshop.
Photoshop integrates well with Adobe Lightroom, which has some image editing tools and particularly excels as a workflow management and image-organizing application. You may want to do your heavy-duty editing in Photoshop and develop library collections of your images, web galleries, and slideshows in Lightroom.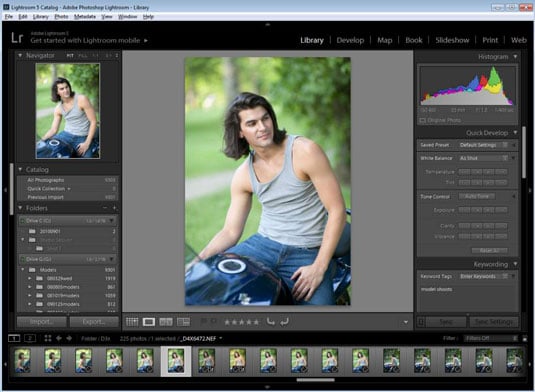 Disadvantages of Photoshop as an image editor
Photoshop still doesn't do natural media well; even with the Brush Tips capability, it has trouble mimicking various types and styles of brushes, charcoal, pens, and other tools needed to paint original images. To create original digital artwork, you need Corel Painter. In fact, many graphics pros own both applications. They use Photoshop for color correcting and retouching and Painter for creative brushwork.
Photoshop's subscription model has to go into the bad news column. Photoshop can also develop into a money pit. Serious Photoshop users have a thirst for plug-ins. Although Photoshop comes with more than 100 plug-ins, you can never be too rich, too thin, or have too many filters for your image editor.
Don't downplay your investment in time required to figure out how to use Photoshop. Although you can pick up the basics in a few weeks, if you really want to master every nuance and trick, be prepared to spend even more time. You probably need to buy two or three of the best books and read them thoroughly to master the basics and most common shortcuts.