View Photos in a Slide Show in Photoshop Elements 10
View Photos in a Slide Show in Photoshop Elements 10
To take an alternative view of your Organizer files, you can see your pictures in a self-running slide show (in Full Screen view), complete with transition effects and background music. Full Screen view takes you to a slide show view.
For the purposes of clarity, think of Full Screen view and viewing a slide show as the same thing. Full-screen viewing temporarily hides the Elements tools and menus, and gives you the most viewing area on your monitor to see your pictures.
To set up your slide show and/or enter Full Screen view, follow these steps:
1

Open the Organizer.

Full Screen view takes you to a slide show view.
2

Select images that you want to see in a slide show or use all the images in the Organizer for your slide show.

If no images are selected when you enter Full Screen view, all photos in the Organizer window are shown in Full Screen view.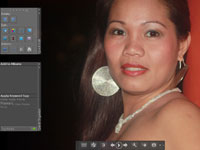 3

Choose Display→View, Edit, Organize in Full Screen, or press the F11 key (Command+F11 on the Macintosh).

After choosing the menu command, you jump right into the Full Screen view with some panels and tools displayed.
4

View the slides.

Click the arrow keys at the bottom of the screen to move forward and back through the slides. You can also click the Toggle Film Strip icon (the first icon on the left at the bottom of the screen) to show a filmstrip on the right side of the screen. Click a slide, and the main window displays the slide.
5

Exit the Full Screen view. Press the Esc key on your keyboard to return to the Organizer window.

You can also open Full Screen view by clicking the Full Screen View of Photos icon in the Shortcuts bar. Look for the monitor icon with a right arrow.