Using an Online Printing Service with Photoshop Elements 9
Using an Online Printing Service with Photoshop Elements 9
Photoshop Elements supports the Adobe Photoshop Services program. The Adobe Photoshop Services program offers online ordering of prints and sharing of photos and projects, and it has a huge array of different print products for consumers and professionals.
1

Select files in the Organizer.

Select the files as you'd normally select files for printing.
2

In either editing mode or the Organizer, choose File→Order Prints.

Alternatively, you can click the Share tab in the Panel Bin and click the Order Prints button.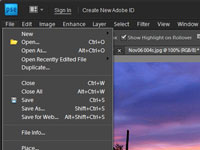 3

From the submenu, choose Order Shutterfly Prints or Order Kodak Prints.

The first screen you see using either service is a log-on screen. Here you can create a new account or log on with your existing account's log-on information.
4

Set up an account, if necessary (or supply your log-on information). Step through the wizard by clicking the Next button on each page.

The selected files in the Organizer are automatically loaded in Step 1 of the wizard's order page.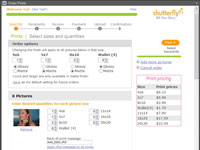 5

Modify your order by deleting files from the order and specifying different print sizes and quantities.

One nice feature in the service is the option to send duplicate prints to another party. You can keep an address book on the provider's Web site and specify whom should receive an order.
6

Continue stepping through the wizard to upload your files and confirm your order; click the Finish button on the last pane.

This completes your order.