Use the Photoshop Elements 10 Catalog Manager
Use the Photoshop Elements 10 Catalog Manager
Catalogs are created, deleted, and managed in the Catalog Manager. When you open files in the Organizer, all your files are saved automatically to a catalog. To access the Catalog Manager, choose File→Catalog.
To keep your photos organized and your catalog files small, you can start a completely new catalog before you import photos. Follow these steps: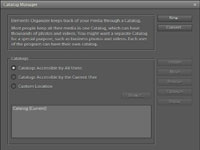 1

Choose File→Catalog and click the New button in the Catalog Manager dialog box that appears.

The Catalog Manager opens.
2

When the New Catalog dialog box opens, type a name for the new catalog in the File Name text box. Click Save.

(Optional) If you want to add the free music files that installed with Elements, select the Import Free Music into All New Catalogs check box.
3

Back in the Organizer window, choose File→Get Photos and Videos→From Files and Folders to add files to the new catalog.

When the Get Photos from Files and Folders dialog box opens, a list of media files appears in the dialog box when the Import Free Music into All New Catalogs check box is selected.
4

(Optional) Select the free music files to add to your collection; then navigate your hard drive and select the photos you want to add.

After you identify all the files, click Open.

The Import Free Music into All New Catalogs and import music files check box. The Organizer ships with free music files that you can use in a variety of projects.

The selected music files and photos are added to your new collection of media contained in the catalog.