Removing Red Eye from a Digital Photo with Adobe Photoshop Elements
Removing Red Eye from a Digital Photo with Adobe Photoshop Elements
Your digital picture subjects may end up with a case of red eye. If you can't prevent the red eye when you take the picture, you can remove it in Adobe Photoshop Elements using the Red Eye tool designed specifically for this problem. To change your subjects' eye color back to normal:
1

Open your image in Adobe Photoshop Elements and click the Standard Edit button.

The Standard Edit view appears.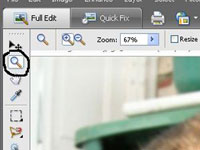 2

Select the Zoom tool's icon from the toolbox, as shown in this figure.

The Zoom tool looks like a magnifying glass.
3

Click and hold at the upper-left corner of the eye on the left of the image and drag the cursor to the lower-right corner of the eye on the right, then release the mouse button.

The section of the image that you selected magnifies.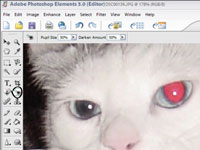 4

Select the Red Eye tool's icon from the toolbox.

The Red Eye tool's icon looks like a red eye, so you shouldn't have a problem finding it.
5

Select values from the Red Eye tool adjustment options' drop-down lists.

These options appear along the top of the Standard Edit window. You can adjust Pupil Size (the size of the pupil in relation to the rest of the eye) and Darken Amount (how dark you want to make the center of the eye).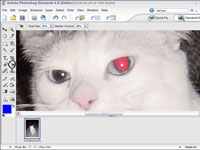 6

Click the center of an eye.

The Red Eye tool automatically replaces the red reflection with a dark pupil, as shown in this figure. Repeat on the other eye.
7

Choose File→Save.

Depending on who you associate with, the people in your photo should look far less possessed.