Make a Straight Selection with the Polygon Lasso Tool
Make a Straight Selection with the Polygon Lasso Tool
The Polygonal Lasso tool in Photoshop Elements 10 has a specific mission in life: to select any element whose sides are straight. Think pyramids, stairways, skyscrapers, barns — you get the idea. It also works a tad differently from the Lasso tool. You don't drag around the element with the Polygonal Lasso.
Instead, you click and release the mouse button at the corners of the element you're selecting. The Polygonal Lasso tool acts like a stretchy rubber band. Follow these steps to select with the Polygonal Lasso tool:
1

Select the Polygonal Lasso tool from the Tools panel.

You can also press the L key and then press Shift+L until you get the Polygonal Lasso tool.
2

Click and release at any point to start the Polygonal Lasso selection line.

Usually it makes sense to start at a corner.
3

Move (don't drag) the mouse and click at the next corner of the object. Continue clicking and moving to each corner of your element.

Notice how the line stretches out from each point you click.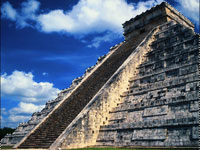 4

Return to your starting point and click to close the selection.

Be on the lookout for a small circle that appears next to your lasso cursor when you return to your starting point. This circle is an indication that you're indeed closing the selection at the right spot.

Note that you can also double-click at any point, and Elements closes the selection from that point to the starting point.

After you close the polygonal lasso line, a selection border appears.