Load Images from Handheld Devices to Photoshop Elements 10
Load Images from Handheld Devices to Photoshop Elements 10
You can acquire images from cell phones, iPhones, iPods, iPads, and a variety of different handheld devices. As a matter of fact, there's quite a bit you can do with uploading, downloading, and preparing photos for handheld devices.
If you want to add images from a cell phone to the Organizer or open images in one of the editing modes, you need to copy files via a USB or Bluetooth connection or e-mail photos if your phone is capable of using e-mail. Follow these steps after copying files to your hard drive:
1

Choose File→Get Photos and Video→From Files and Folders, or press Ctrl+G.

Press Command+G on the Macintosh.
2

Locate the folder into which you copied the files and add them to your Organizer.

Or, you can open them in one of the editing modes.

With an iPhone, iPod Touch, or iPad, you can use the photo downloader to transfer media.
3

Hook up the device with a USB cable.

The Photo Downloader automatically opens. In this particular case, you would use the Photoshop Elements Photo Downloader.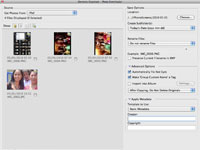 4

Click the Choose button to select a destination.

Hook up an iPhone or iPad via a USB cable to your computer and choose File→Get Photos and Videos→From Camera or Card Reader.
5

Click the Get Media button to download the photos to your computer.

For iPhone, iPod touch, and iPad, you can also hook up your device via a USB cable and choose File→Get Photos and Videos→From Camera or Card Reader. Elements recognizes the device, and the Photo Downloader opens where you have options for importing all photos or selected images.