How to Work with Layers in Photoshop Elements 11
How to Work with Layers in Photoshop Elements 11
In Photoshop Elements 11, you can place elements on separate layers yet show them together to create a composite. You can also add, delete, or rearrange layers. And, unlike using real sheets of acetate or physical materials, you can adjust an element's opacity, or how opaque or transparent the element is on the layer. You can also change the way the colors between layers interact by using Blend modes.
When you create a new image with a white or colored background, scan an image into Elements, or open a file from a CD or your digital camera, you basically have a file with just a background. You have no layers yet.
At this basic level, an image contains only the single background, and you can't do much to it besides paint on it and make basic adjustments. You can't rearrange the background in the stack of layers (after you have some) — it's always on the bottom of the Layers panel.
Nor can you change the opacity or Blend mode of a background. What you can do is convert a background to a layer, making it possible to shuffle, change the opacity, and change the Blend modes of your newly formed layer.
To convert a background into a layer, follow these steps:
1

In the Photo Editor, in Expert mode, choose Window→Layers to display the Layers panel.

To work with layers, you must be in the Photo Editor in Expert mode.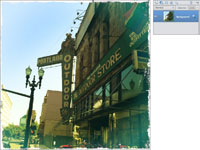 2

Double-click Background in the Layers panel.

You can also choose Layer→New→Layer from Background. Note that the name Background is italicized in the Layers panel.

The New Layer dialog box appears.
3

Name the layer or leave it at the default name Layer 0.

Note that you can also adjust the Blend mode and opacity of the layer in the New Layer dialog box. You should do so, instead, by using the Layers panel commands.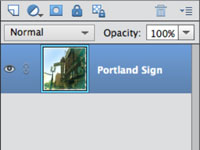 4

Click OK.

Elements converts the background into a layer, also known as an image layer. Note that the layer name is no longer italicized nor is it locked.

When you create a new image with transparent content for the background, the image doesn't contain a background; it's created with a single layer. You can convert a layer into a background by selecting it and then choosing Layer→New→Background from Layer, which moves the background to the bottom of the stack. Note that this option is available only when no background exists.