How to Use the Crop Tool in Photoshop Elements 11
How to Use the Crop Tool in Photoshop Elements 11
You can crop an image's canvas size with the Photoshop Elements 11 Crop tool. The Crop tool is a visual method for sizing the canvas.
In Photoshop Elements, you can resize the canvas with new features added to the Crop tool. The Crop tool in Elements is capable of expanding the canvas size as well as trimming it. To find out how to use the Crop tool to size up a canvas, follow these steps:
1

Open an image in the Photo Editor.

Any image will do. Select an image in the Organizer and open the Fix menu. Click the Photo Editor button to open the image in the Photo Editor.
3

Drag open a rectangle on the image and release the mouse button.

You can drag out a small rectangle or one to fill the entire size of the image. The size of the rectangle doesn't matter. Just be certain you see a rectangle with eight handles (squares) along the dashed lines.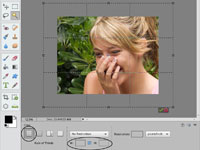 4
Drag the rectangle handles out beyond the image size.
What you see here is an overlay called the Rule of Thirds where the grid appears with equal divisions in nine quadrants. Theoretically, the centermost rectangle is the area where a viewer of your photo makes eye contact and should appear as the focal point for your photo.
In the Options panel, you see Rule of Thirds selected. You have other choices for overlays or using no overlay in the panel.
5

Press the Enter/Return key or click the green check mark to commit the new canvas size.

The canvas size is sized up to the rectangle boundaries.