How to Use Photomerge Faces in Photoshop Elements 11
How to Use Photomerge Faces in Photoshop Elements 11
Photomerge Faces in Photoshop Elements 11 enables you to create the perfect portrait by compositing several less-than-perfect shots of a person. For example, you can get the smile from one shot, the eyes from another shot, and so on. You can also use this feature in more of a whimsical, fun way to blend features from multiple faces to create sort of a hybrid face.
To create a new and improved human by using the Photomerge Faces feature, follow these steps:
1

Select two or more photos from your Photo Bin and choose Enhance→Photomerge→Photomerge Faces in any of the Photo Editor modes.

The Photomerge Faces dialog box appears.
2

Choose the face you want to have as your canvas (or starting image) and drag it from the Photo Bin onto the Final pane.

Select one of your other photos in the Photo Bin to use as the source image and then drag it to the Source pane.
3

With the Alignment tool, click the source image and position the three target markers on the eyes and mouth of the face; then do the same on the final image.

Click the Align Photos button.

This command sizes the images to better match and align the features. It's always best to start with similarly sized, framed, and oriented images. Shooting the images in similar lighting helps, as well.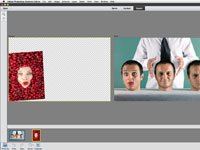 4

With the Pencil tool, draw a line around the features of the source photo that you want to merge into your final photo.

In the Options area on the right side of the dialog box, you can choose to show your blue pencil strokes (Show Strokes) or show your regions (Show Regions), which are then highlighted with a blue overlay. Use the Eraser tool to remove any portions of the face you don't want merged onto your final image.