How to Send Photo Mail with Photoshop Elements 11
How to Send Photo Mail with Photoshop Elements 11
Although similar to sending e-mail attachments, using Photo Mail (only in Windows) adds some pizzazz to your e-mail attachments. You can neatly organize your photos in Photoshop Elements 11 in a nice layout and then package them together for a single e-mail attachment. Here's how you go about preparing albums for online viewing:

1

Open the Organizer (Windows only) and select photos you want to use with Photo Mail.

Choose a quality setting for the attachment and click Next. Drag the slider labeled Quality and observe the file size below the slider. If the file is large, you may need to resize it in the Image Size dialog box before e-mailing the photo.
2

Add recipients or bypass this option.

The next panel provides settings for adding a message and adding recipients from an Address Book.

You can bypass adding recipients from your Address Book. If no recipients are listed in the Select Recipients panel, you can add recipient e-mail addresses in the new message window in your e-mail client.
3

Click Next.

The photo(s) are attached to a new e-mail message in your default e-mail client.

Elements attaches media to a new e-mail message. You need to toggle to your e-mail client in order to see the message and send the mail.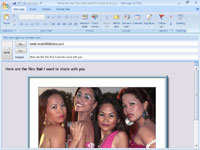 4

Review the To, Subject, and Attach fields to be certain the information is correct and then click the Send button.

By default, Elements uses your primary e-mail client application, which may or may not be the e-mail program you use. You can change the default e-mail client by pressing Ctrl+K to open the Preferences dialog box when you're in the Organizer, and then clicking Sharing on the left pane.

From a drop-down menu in the Sharing preferences, select the e-mail client application that you want Elements to use. On Windows, you have only two choices: Use Microsoft Outlook or Adobe Email Service.

On the Macintosh, you likewise have only two choices: Use Microsoft Outlook or Apple Mail. Unfortunately, if your e-mail service is Yahoo! Mail or another web service, you can't use Email Attachments to send photos from Elements.