How to Place Pictures on Maps in Photoshop Elements 14
How to Place Pictures on Maps in Photoshop Elements 14
You may take vacations to interesting places and want to sort photos in Photoshop Elements according to the location where the photos were shot. You can easily place photos on geospatial maps.
Geotagging (placing photos on maps) has a new look. Similar to people recognition, the feature is not new to Elements 14, but the interface has changed substantially.
You have two ways to tag photos according to geographic location. Click the Add Places button at the bottom of the Media Browser, or click Places at the top of the Media Browser to open the Places window. Perhaps the easiest way is click Places and work from there.
To see how easy placing photos on maps is, do the following:
1

Click the Places tab.

This is located at the top of the Media Browser window.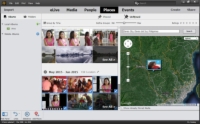 2

Select photos in the left pane.

The Places window has a new look and makes it very easy to drag and drop photos at various map locations. In the left pane are photos not yet tagged with locations. Scroll through the window to find photos you want to tag with a location.
3

Search for a location.

In the search text box at the top of the Google map, type the name of a location that you want to assign photos. The Google map offers some suggestions in a drop-down list below the search text box. Click the area on the map to which you want to assign photos.
4

Select photos to assign to locations.

In the left pane, click photos you want to add to a given location.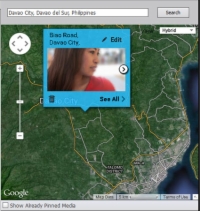 5

Drag the selected photos to the map.

After you add photos to the map, a stack of photos appears as a small thumbnail. You can see some information by placing the cursor over a thumbnail on the map.