How to Create Slideshows in Photoshop Elements 11
How to Create Slideshows in Photoshop Elements 11
Photoshop Elements 11 has many toggles, switches, and commands available for producing slide shows. Most of what you find in the Slide Show window is straightforward and intuitive. If creating slide shows is important to you and you need more details on some of the options available, search through the Elements Help system to fill in the gaps.
Creating slide shows follows the same initial steps as you find with other creations. To create a slide show using the Create panel, follow these steps: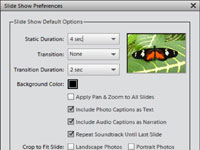 1

Select the images you want in the Organizer or Photo Bin, click the Create tab, and then click the Slide Show option.

The first thing you see is the Slide Show Preferences dialog box.

You make choices in this dialog box for setting up your slide show — stuff such as setting transition type, adjusting transition duration, adding music, and adding background color.
3

Define the attributes, such as transitions, artwork from the Extras panel, zooms, and time codes.

To add transitions, click the right-pointing arrow adjacent to the transition icon appearing between a slide and choose from the pop-up menu the transition effect you want.

Other choices you have for creating slide shows include adding graphics by dragging items from the Artwork panel and adding text by clicking the T tab in the Extras panel and then double-clicking one of the type styles in the Extras panel.
4

Size, rotate, and perform image editing in the Properties panel.

The Properties panel offers you editing options.
5

(Optional) Add audio by opening the Add Media menu and choosing Audio from Elements Organizer or Audio from Folder.

You can have Elements fit the slide duration to the audio duration. Add the audio and click the Fit Slides to Audio button.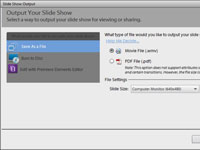 6

Choose an output option.

Click the Output button, and the Slide Show Output dialog box opens.

In the dialog box, you have several options from which to choose.
7

Click OK in the dialog box after making the output choice.

Elements outputs your slide show using the settings you applied.