How to Create Facebook Cover Images in Elements
How to Create Facebook Cover Images in Elements
You can select one or more images in the Adobe Photoshop Elements Organizer and open the files in the Editor. To create a Facebook Cover and upload the file(s) to your Facebook account, do the following:
1

Open the Photo Bin so you can see your open files.

Select photos in the Photo Bin.
2

Open the Create Panel and choose Facebook Cover.

The Facebook Cover Wizard opens.
4

Edit the images for position and size.

Click the green check mark when you have the image(s) sized to your liking.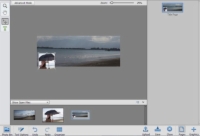 5

(Optional) Click the Save button in the lower right to save the file as a PSE file.

You can reopen and rework if you decide to change your mind.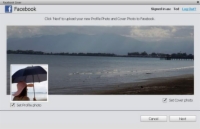 6

Click the Upload button to add the final image to your Facebook account.

The wizard shown appears. Step through the wizard to authenticate your account and upload the photo.
7

Click Next in the Facebook Cover Wizard.

Proceed through the guided steps to upload your new cover image.