How to Carve Type Out of Stone with Photoshop Elements 11
How to Carve Type Out of Stone with Photoshop Elements 11
You can use a Type tool in Photoshop Elements 11 to create selections shaped like text and then use images themselves as fills for the type. For example, if you're creating a floral-themed web page, you can use pictures of flowers as the fill for the text. A type selection can cut out any part of a picture for use in any way you want.
Follow these steps to create letters made from stone:
1

In the Photo Editor, in Expert mode, open the stone texture image you want to use.

Use a sandstone wall, but you can use other kinds of stone or wood or any texture that interests you.
2

Convert your background into a layer by double-clicking the word Background in the Layers panel and then click OK.

This step enables you to stylize the type later.
3

Select the Horizontal Type Mask tool from the Tools panel and then click the area where you want to enter text; press the T key to cycle through the various Type tools.

You can also select the particular Type tool you want from the Tool Options.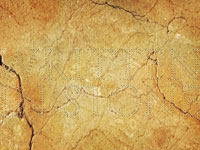 4

Select the font, font style, font size, and other text attributes from the drop-down lists in the Tool Options. Click the image and type the text; click the Commit button (the check mark icon) next to your text.

A selection border in the shape of the text appears on your image, as shown.
5

Choose Select→Inverse, which deselects letter selections and selects everything else. Press the Backspace (Delete on the Mac) key to delete everything outside your selection border and choose Select→Deselect.

Your type is now filled with your stone texture.
6

Choose Window→Effects and select the Layer Styles button at the top of the Effects panel.

Then select the Bevels styles library from the drop-down menu on the Effects panel. Double-click a bevel.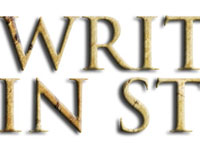 7

Select the Drop Shadow styles library from the drop-down menu in the upper-right area of the Effects panel and double-click a shadow.

A Simple Inner bevel and Soft Edge drop shadow is used to produce the stone letters, as shown.

If you want to admire your type against a solid background, create a new layer and then choose Edit→Fill Layer and choose a color from the Use drop-down menu.