Create Versions in Photoshop Elements 10 Organizer
Create Versions in Photoshop Elements 10 Organizer
Versions are similar to stacks, but you create versions from only one file. You can edit an image and save both the edited version and the original as a version set. Also, you can make additional edits in either editing mode and save to a version set. To create a version set, follow these steps:
1

Select an image by clicking it in the Organizer window and apply an edit.

For example, right in the Organizer, you can correct some brightness problems in your image. Choose Edit→Auto Smart Fix to adjust contrast and brightness.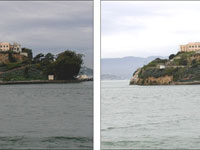 2

View the items in the version set by clicking the image in the Organizer and choosing Edit→Version Set→Expand Items in Version Set.

Elements automatically creates a version set for you when you apply the Auto Smart Fix to the file. A new Organizer window opens and shows two thumbnail images — one representing the original image and the other representing the edited version.
3

To open the original image in Full Photo Edit mode, select the image.

Then select Edit Full from the Display drop-down menu on the Organizer menu bar.
4

Edit the image in Full Photo Edit mode.

You can choose from many different menu commands to edit the image. For example, change the color mode to Indexed Color by choosing Image→Mode→Indexed Color.
5

Save a version by choosing File→Save As.

In the Save Options area of the Save As dialog box, select the Include in the Organizer and Save in Version Set with Original check boxes.
6

Click Save.

The edits made in Full Photo Edit mode is saved as another version in your version set.

After you create a version set, you find additional submenu commands that you can use to manage the version set. Choose Edit→Version Set, or open a contextual menu on a version set and then choose Version Set.