Create an Album Category in Photoshop Elements 10
Create an Album Category in Photoshop Elements 10
The Albums panel contains all the albums and smart albums you create in an organized list. By default, the albums are listed in alphabetical order. If you add many albums to the panel, the list can be long, making it difficult to find the album you want to use for a given editing session.
If you're a user of Photoshop Elements prior to version 8, New Album Category was previously referred to as New Album Group.
An album category is no more than a divider shown in the Albums panel. You don't add photos to the group; you nest albums within a group in a hierarchical manner. To create an album category, follow these steps:
1

Create several albums.

To begin, you should have two or more albums added to the Albums panel. For example, suppose that you have many photos of a vacation trip to Hawaii. You want to divide the photos by images taken at a luau, a diving trip, a day on Waikiki Beach, or other similar events that you want to group together.

For each category, such as Luau, Diving, or Waikiki, you create a separate album.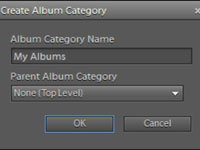 2

Create an album category by clicking the New menu on the Albums panel and choosing New Album Category.

The Create Album Category dialog box opens.
3

Type a name for the group in the Album Category Name text box.

The example shows My Albums as the group name.
4

Click OK.

You new album category is added to the Albums panel.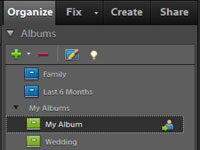 5

Click and drag an album onto the album category name in the Albums panel.

The albums you drag to the album category are nested within the group.

An expanded album category is denoted by the list (below My Albums) and the disclosure arrow. To collapse a group, click the down-pointing arrow. The group names remain visible and provide you with more viewing space on the Albums panel, making it easier to scroll long lists.

Like keyword tags, albums can be saved to an XML (eXtensible Markup Language) file, and the files can be loaded in the Albums panel. Open the New menu, where you find commands for Save Albums to File and From File. You can export an album to a file and then copy the file to another computer, making it easy to organize photos on several computers.