Create a Smart Album in Photoshop Elements 10
Create a Smart Album in Photoshop Elements 10
You can perform a search based on a number of different criteria. The Smart Album feature enables you to save the search results in an album. After you have all the files shown in the Organizer based on the searches you perform, you can create a smart album as follows: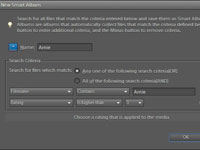 1

Open the New menu on the Albums panel and choose New Smart Album.

The New Smart Album dialog box opens.
2

Type a name for your new smart album.

Arnie is used as the Name in the example.
3

Make selections for the search criteria in the Search Criteria section.

You can search using multiple criteria by clicking the plus (+) icon in the New Smart Album dialog box. Click the icon, and a new line appears. Choose options from the drop-down menus to help narrow your search. In the figure, the criteria are to search for either any filenames that contain the text Arnie, or any images rated higher than 3 stars.
4

Click OK.

The smart album is listed above the albums in the Albums panel.