Create a Photomerge Scene Cleaner Composite in Photoshop Elements 11
Create a Photomerge Scene Cleaner Composite in Photoshop Elements 11
Photoshop Elements 11's Photomerge Scene Cleaner sounds like a covert job with the CIA where you spend your days mopping up evidence at crime scenes, but it isn't quite that intriguing. This Photomerge command toolset enables you to create the optimum image by allowing you to eliminate annoying distractions, such as cars, passersby, and so on.
To get the best source images for a "clean scene," be sure to take multiple shots of your scene from the same angle and distance. It also works best when the elements you want to eliminate are moving.
Follow these steps to create a Photomerge Scene Cleaner composite:
1

Select two or more photos from your Photo Bin and choose Enhance→Photomerge→Photomerge Scene Cleaner in any of the Photo Editor modes.

The Photomerge Scene Cleaner dialog box appears.

Elements attempts to auto-align your images the best it can.
2

Take your best overall shot of the scene and drag it from the Photo Bin onto the Final pane.

Select one of your other photos in the Photo Bin to use as your source image and then drag it to the Source pane.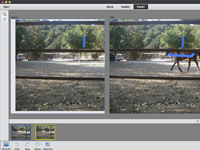 3

With the Pencil tool, draw a line on or around the elements in the final photo that you want to be replaced by content from the source photo.

Repeat the last couple of steps with the remaining shots of the scene.

If your photos aren't aligned, you can use the Alignment tool under the Advanced Options.
4

Using the Alignment tool, click the source image and position the three target markers on three key locations.

Do the same on the final image, choosing similar locations.
5

Click the Align Photos button.

The more similar the starting source images (similar framing, similar angle, similar lighting), the better the merged result will be.
6

If you see any noticeable seams on your final image around the copied area, click the Pixel Blending button to help smooth over those flaws.

If you make a mess of things, click the Reset button and go back to Step 2.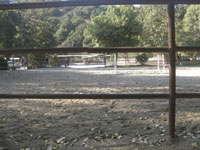 7

When you're satisfied with the result, click Done.

The cleaned-up image opens as a new file in Elements. You have to admit, for a command that's so easy to use, the results are impressive.

Be sure to check the edges of your composite image carefully for artifacts or blurring caused by the aligning of the multiple images. Execute a quick crop with the Crop tool, and you're good to go.