Convert 8-Bit Images to 16-Bit Images in Photoshop Elements 10
Convert 8-Bit Images to 16-Bit Images in Photoshop Elements 10
You can convert any image taken in 8-bit mode with a digital camera or a scanner to a full 16-bit image. Open Elements in Full Photo Edit mode and follow these steps to make the conversion from 8-bit to 16-bit mode:
1

Choose File→Open As.

In the Open As dialog box, choose Camera Raw from the Open As drop-down menu.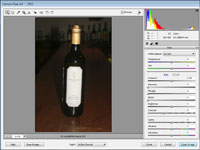 2

Set Depth to 16 Bits/Channel.

The Depth setting is located the bottom, center of the Camera Raw converter.
3

Make further adjustments in the Camera Raw converter to adjust brightness, contrast, exposure, and color.

The Camera Raw converter displays adjustments in the order recommended for adjusting brightness and color. For most images, choose Auto from the White Balance drop-down menu. Make adjustments for each of the sliders beginning with Exposure. You can move sliders and return to previous settings while viewing results with the Preview check box checked. To reset an adjustment, double-click the slider.
4

Open the image.

Click the Open Image button in the bottom-right corner of the window after making edits. You can continue editing the photo in Elements for various brightness and color adjustments.
5

When you're finished editing, choose Image→Mode→8 Bits/Channel.

While editing the image in 16-bit mode, you perform nondestructive editing. Opening in Camera Raw and making adjustments in the Camera Raw converter is a best practice for making brightness and color adjustments in Elements.