Add Pages to an Existing Photoshop Elements 10 Project
Add Pages to an Existing Photoshop Elements 10 Project
Rather than create a new, blank file, you can add pages to an existing file in the form of a project. Just follow these steps:
1

Open an image in Full Photo Edit mode.

On the Welcome screen, which appears when you first launch Elements, click Edit to launch the Full Photo Edit mode.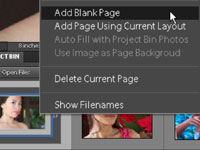 2

Right-click the photo thumbnail in the Project Bin. By default, the Project Bin opens.

The context menu appears.
3

Choose either Add Blank Page or Add Page Using Current Layout.

Add Blank Page enables you to add a new, blank page. Add Page Using Current Layout enables you to duplicate the current photo as a new page.
4

Save the file by choosing File→Save As and selecting Photoshop Multiple Project as your file format.

Note that the default format in the Save As dialog box is Photo Project Format (*.PSE).

All the pages you add to a project are saved as separate files in a folder created automatically by Elements. When you open any one of the images, it appears separately in the Project Bin. To open an image in the stack, click the image you want to open in the Project Bin. Clicking an image in the Project Bin opens that image in the image window.