Using Adobe Fireworks to Prepare Your Photos for the Web
Using Adobe Fireworks to Prepare Your Photos for the Web
Fireworks has all the features you should need to get your digital images ready for the Web. If you plan to edit most of your digital photos for use on the Web, Fireworks makes that kind of editing easy: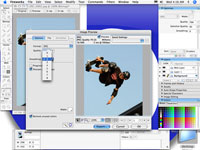 2

Adjust the settings in the Options tab.

Select the file format, quality, smoothing, and other settings, as needed. Depending on the file format that you choose, the other setting boxes change to reflect the options that are available for that file format. This figure shows the options for a JPEG file.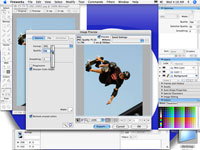 3

Experiment with different settings until you get the image just the way you want it.

The effect of your changes appears on the preview image and on the file size and download speed display above the preview box.