How to Send a Message on MySpace
How to Send a Message on MySpace
You can create and send messages to other users on MySpace. The most common way to send a message is by using the Send Message link on the user's profile.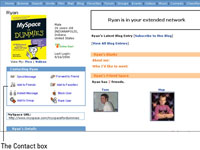 1

When you've found the user you want to contact, locate the Contact box on the user's profile page.

The Contact box is usually located directly beneath the profile picture on each MySpace page and has several options available.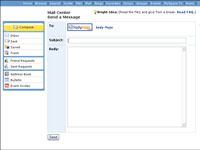 2

Click the Send Message link in the Contact box.

The link to send a message is always in the upper-left corner of the Contact box. You then see the Send a Message window in the Mail Center, which will automatically be in the correct mode so a new message can be composed. The To: information is already set based on the user that you're contacting. Composing a MySpace message is similar to composing an everyday e-mail.

One thing many people like about MySpace is that it gives all users the flexibility to customize almost anything on their profile pages. Customizing is a great way to give your profile page some personality, but it can also make it look completely different from the standard MySpace profile; the Send Message link (as well as the entire Contact box) could look and read differently.

Instead of Send Message, it could say Give me a shout or Message Me. Although the look of the Contact box can change, the position of the different links won't. The Send Message link will always be in the upper-left corner.
3

Fill in the Subject and Body fields for the message in the Send a Message window.

When composing your message, you don't need to include a Subject, but to send it, you must enter content into the body of the message. Messages can include HTML, which means that links, images, and so on can be used in the body.