How to Transfer Files to the Samsung Galaxy Tab from Your PC
How to Transfer Files to the Samsung Galaxy Tab from Your PC
If you want to exchange files between your Galaxy Tab and a computer, you need to know how to copy, move, rename, and delete files. It also helps to be familiar with what folders are and how they work. Then, you can copy over your pictures and videos, and you can copy over music or audio files. You can even copy vCards that you export from your e-mail program, which helps you build your Contacts list.
Follow these steps to copy a file from your computer to the Galaxy Tab: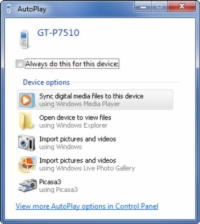 1

Connect the Galaxy Tab to the computer, using the USB cable.

The AutoPlay dialog box appears. Don't be concerned if it doesn't. Some computers are programmed to ignore newly connected devices.
2

From the AutoPlay dialog box, choose the option Open Folder/Device to View Files.

If the Auto Play dialog box doesn't open, open the Computer window, then open the Galaxy Tab's icon, and then open the Tablet icon.

The folder window you see looks like any other folder in Windows. The difference is that the files and folders in that window are on the Galaxy Tab, not on your computer.
3

Locate the files you want to copy to the Galaxy Tab.

Open the folder that contains the files, or somehow have the file icons visible on the screen.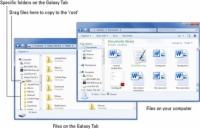 4

Drag the File icon from its folder on your computer to the Galaxy Tab window.

If you want to be specific, drag the file to the download folder; otherwise, you can place the file into the Galaxy Tab's root folder. Try to avoid dragging the file into other, specific folders, which would make the file more difficult to locate in the future.
5

Close the folder windows and disconnect the USB cable when you're done.

Any files you've copied are now stored on the Galaxy Tab. What you do with them next depends on the reasons you copied the files: to view pictures, use the Gallery, import vCards, use the Contacts app, listen to music, or use the Music app, for example.

The name of the cellular Galaxy Tab device is SCH-I905; the Wi-Fi version is GT-P7510. You may see those names when mounting the Tab into your computer's storage system.

Files you've downloaded on the Galaxy Tab are stored in the download folder unless you direct them somewhere else.