How to Install a microSDHC Card in Your Tab 4 NOOK
How to Install a microSDHC Card in Your Tab 4 NOOK
The kind designers at Samsung have made sure you don't need a post-graduate degree in engineering to install a memory card in the Tab 4 NOOK. You can get to the card slot without removing the back cover; you need no tools other than your fingers.
Just take your time, be careful, and follow these instructions to install a memory card:
1

Turn off the device.

Technically this isn't required, but it is a good practice anytime you're working with electrical devices.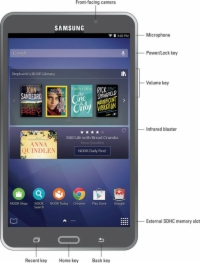 2

Place your NOOK face up on a well-lit, clean, level surface.

Make sure no cups of coffee, soda, water, molten iron, or anything else can spill onto your tablet.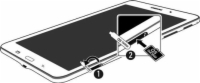 3

Find the small soft plastic lid on the right side of the tablet.

Using the tip of your finger, gently pull the lid straight out from the body of the tablet.

The lid doesn't completely detach; a flexible band attaches to the lower side.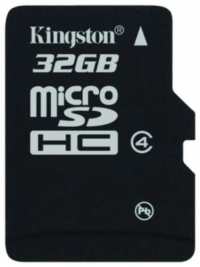 4

Hold the memory card with the printed logo facing up toward you and the small triangle facing toward the Galaxy Tab 4 NOOK. The gold electrical contacts face down, toward the back of the device.

Carefully slide it into the slot.

Push gently against the card until it's fully in place. You should hear or feel a click. Don't force it into place; it should fit easily. If it looks about twice as large as the opening, you've got the wrong card. Micros only need apply.
5

Gently rotate the cover into place and snap it into place.

When a memory card's installed in the tablet, it is automatically mounted and ready for use. Mounting means the tablet has recognized the card.