Advanced Wi-Fi Settings on Your Galaxy Tab 4 NOOK
Advanced Wi-Fi Settings on Your Galaxy Tab 4 NOOK
The Wi-Fi system on your Galaxy Tab 4 NOOK should function well as delivered, but there are some advanced settings you can use to adjust performance to meet your needs.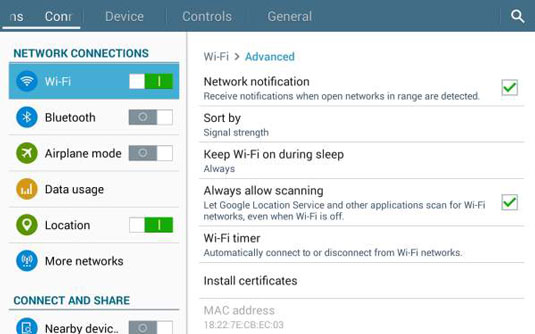 To reach the somewhat hidden screen, do this:
Swipe down from the top to display the notifications panel.

Tap the Settings (gear) icon.

If it isn't already selected, choose the Connections tab at the top of the screen.

If it isn't already on, slide the Wi-Fi switch to the right.

Tap the Menu icon in the upper-right corner.

Select Advanced.

Choose your options:

Network Notification. This brings up a message anytime an open network is detected within range.

Sort By. You can sort by signal strength or by the name of the router.

Keep Wi-Fi on During Sleep. Choose among Always (you get email and notifications while the tablet's asleep, which is a good thing except that it uses battery power); Only When Plugged In (which deals with the battery power issue, assuming an AC outlet is handy), or Never (which shuts off the radio and saves battery power).

Always Allow Scanning. If you put a check mark in this box, your tablet lets Google Location Services and other applications scan for Wi-Fi networks even when other radio features are off. This may allow certain mapping programs to keep track of where you are even without a Wi-Fi signal, although full maps features aren't available without an Internet connection.

Wi-Fi Timer. You can have your tablet turn on (and off) the Wi-Fi radio at a specified time. One possible use: to allow your device to check for email in the middle of the night but otherwise stay in Sleep mode, sipping slowly from the battery.