How to Assign a Photo to a Contact on Your iPad
How to Assign a Photo to a Contact on Your iPad
The Contacts app on your iPad is simple to set up and use, and it has some powerful features beyond simply storing names, addresses, and phone numbers. You also can have some fun and assign photos to help you identify your contacts. To assign a photo to a contact, follow these steps:
1

With Contacts open, tap a contact to whose record you want to add a photo.

Tap the Edit button.
3

Tap Choose Photo to choose an existing photo from the Photos Gallery.

You can also choose Take Photo to take that contact's photo on the spot using iPad's camera.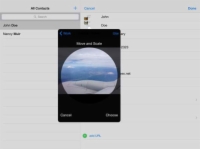 4

If you select Choose Photo, in the Photos popover that appears, choose a source for your photo (such as Recently Added or All Photos).

In the photo album that appears, tap a photo to select it. The screen shown appears.
6

Tap Done to save changes to the contact.

While you're choosing a photo, you can modify the photo before saving it to the contact information. You can unpinch your fingers on the screen to expand the photo. You can also move the photo around the selected area with your finger to focus on a particular section and then tap the Use button to use the modified version.