How to Apply Line Styles to Objects in iBooks Author
How to Apply Line Styles to Objects in iBooks Author
A stroke is a line, whether a border around an object, a border around a table cell or chart element, or an actual line. In iBooks Author, the Graphic inspector's controls for strokes are simple to use: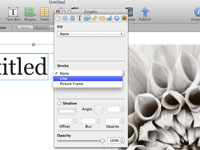 2

In the Graphic inspector, choose Line in the Stroke pop-up menu to apply a border to the selected object or element.

If you don't choose Line, none of the following options are available.

If you choose an object, as opposed to a line or data element in a chart or a line, that has a caption applied, you get an additional border outline option in the Stroke pop-up menu: Picture Frame. Choosing this option applies a graphic around the object, with a choice of 12 frame graphics. Use the Scale slider to determine how large the frame is.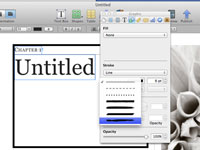 3

Choose the type of stroke that you want to use from the unnamed pop-up menu below the Stroke pop-up menu.

By default, this pop-up menu shows a straight, thin line. The other options are a dotted line, a dashed line, a thick line with angled endpoints, and three kinds of crayon-like lines.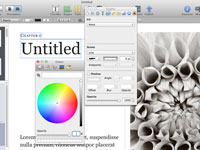 4

Click the swatch to open the Colors panel, and then select a color for the stroke.

You can also apply strokes to table elements in the Table inspector and to text paragraphs in the Text inspector (not via the Graphic pane, as for objects).
5

Set the stroke's thickness by entering a value in the Weight field.

Or you can use the stepper controls to adjust the current value.
6

If you created a line by using the Shapes options, choose the ending style for each end of the line from the two Endpoints pop-up menus.

These menus offer ten options, such as arrowheads. Endpoint options aren't available for object borders, just line shapes.